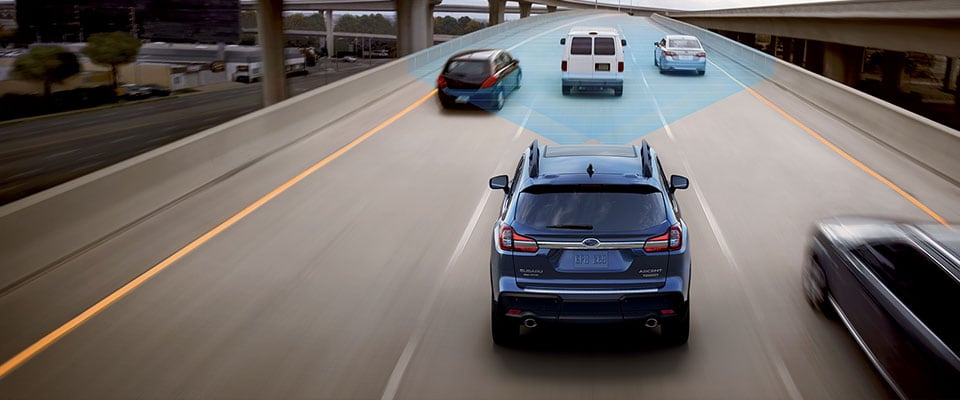 Maintaining an extra pair of eyes on the road or added braking assistance is of much-needed help. The Subaru EyeSight system is an innovation specifically designed to help you navigate the roads better.
Subaru EyeSight technology consists of a pair of cameras installed on either side of your rearview mirror. These cameras act as 'eyes' and continuously monitor the roads ahead. The technology also provides the following capabilities:

Automatic Braking
The pre-braking collision system helps you avoid frontal accidents by alerting you to slow down if there's something detected in front of you. In emergency systems, the car will apply full braking force.

Lane-Keeping Assist
Eyesight monitors your position on the road and will send you an alert if you veer from your lane. The lane-keeping assist will activate if you begin to sway on the road, bringing your car back to the center. If you deviate too far from your designated lane, EyeSight will take corrective action and adjust your steering.

Adaptive Cruise Control
EyeSight's cruise control has added onto the traditional cruise control with more perks. If you are driving at night and begin to feel drowsy, you can apply a preset speed and trust EyeSight to take care of the rest. The cruise control adjusts its speed accordingly by monitoring the traffic around you. The cruise control also works in city traffic, making your Subaru come to a complete halt if needed.

Throttle Management
The Pre-Collision Throttle Management system of your Subaru is essential to keep you safe while on the road. The cameras on your car use dual colors to detect the speed of the vehicle in front.
If the car ahead uses emergency braking, EyeSight will reduce the power of the throttle and prevent you from accidentally accelerating. You will get more time to respond accordingly while the system prompts you with audible and visual alerts to bring your car to a complete halt.

The Subaru EyeSight system is an advanced leap in safety technology in the automobile industry. Book an appointment at Huntington Subaru in Huntington, NY, to experience Subaru's EyeSight technology for yourself. We also serve the cities of Elwood, Melvill, and Woodbury.